A spoiler: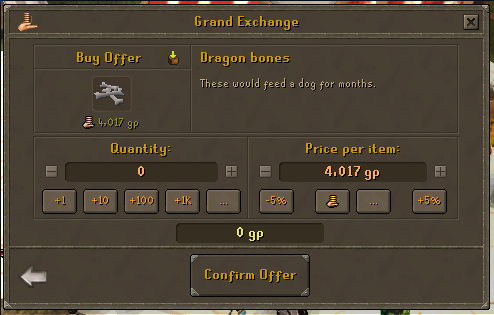 Okay, we all know that bots got the proverbial ban not so long ago, so im just posting some profit rates for skills. Tested by yours truly and some of my friends.
Hunting swamp lizards: 400k-2m/hour
RCing Blood runes: 800k-1m/hour
RCing nature runes(double): 800k-1.1m/hour
Hunting implings magpie and up: 200k-4m/hour (luck based, better with a spotter)
Fishing Monks/Shark/Rocktail: 200-600k/hour (VERY AFK)
Chopping Magics = 100-500k/hour
Plank Make = 400-600k/hour
Brutal Green Dragons (with t75 weapon, tokkul-zo, games): 1.5m-3m/hour
Blue Dragon (t75, zo, 70 agil): 2.1m/hour
Red dragon (t75, zo, brimhaven): 800k-1.2m/hour
Black Dragon (t75,zo): 2m-3m/hour
Exiled Kalphite marauders/guardians: 1-2m/hour w/99 smithing, t80 weapon
High Alch: 100k-1m/hour (spamclick)
Crafting orbs = 800k-1.2m/hour
Wine of Zamorak (telegrab) = 500k/hour
Killing chickens: 200k/hour (great for noobs)
Selling DG floors: Varies, can get up to 20m/hour if super lucky/efficient
Shop runs: up to 750k cash daily (takes 15 minutes)
Mahogany logs: 200-400k/hour
Killing unicorns (rell lodestone): up to 600k/hour
Pickpocketing high level farm seeds: up to 1m/hour
Warped tortoises: 800k-2m/hour
Hunting pawyas: 400k-3m/hour depending on level/efficiency
Superheat rune bar: 700k/hour
Superheat mithril bar: 450k/hour
Superheat steel bar: 250k/hour
Making arrow shafts: 100k-200k/hour
Making urns: 100k-400k/hour
Collecting batwing: 150-250k/hour
Mining gold/coal (lrc): 400k/hour (AFK)
Mining runite: 300k-1m/hour
Papaya Trees (collect fruit): 100k every 45 minutes, 5 minute run
Coconut Trees (collect fruit): 200k every 45 minutes, 5 minute run
+ Add some herb runs to make roughly an extra 150k every 1,5 hour...
+ Low level pvm items going up, like Godswords, Ascension Keys, D2h, Dpick, Ganodermic, DK drops....
Nex gear is crashing.
Rares are crashing.
Skills get more profitable every day.
Theres no excuse for being poor anymore. No need to do high level bosses as the only reliable source of income.
If i hear "skills arent profitable" and "EoC/rs3 economy is terrible" one more time im gonna destroy a small kitten.